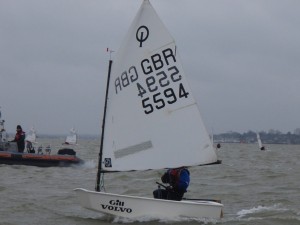 The so-called Optimist Spring Championships were sailed at West Mersea in truly wintery weather: the air temperature was only just above freezing, with winds up to 20 kts on Sunday, enlivened by the odd sleet shower, conditions were truly testing. After the first day of sailing the sailors from the Optimist National and Zone squads (142 sailors) were split into Gold and Silver fleet. Jamie Harris, Rosie Williamson and Josh Haynes all sailed well and quailified for the gold fleet (72 sailors). At the end of the weekend Jamie and Rosie both had four top-10 placings out of their six races sailed, to finish in an excellent 6th and 13th place overall, Josh came 33rd.
In the Silver fleet Matthew Beck topped the leader board, congratulations to all sailors taking part in the tough conditions.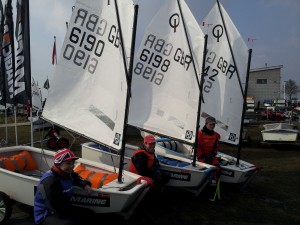 After the Spring Championships one of the next big events was at Braassemermeer  for the Magic Marine Easter Regatta.
GBR sent out 3 coaches and 31 selected sailors to the Netherlands for 2 days of training and 4 days racing over Easter. The Braassemermeer Magic Marine Easter Regatta has been running for 28 years, and is now an invitation-only event for teams from 12 countries, sailed on a large lake about 15 miles south of Amsterdam.
Good Friday was the first day of racing and 209 eager sailors were plagued with virtually no wind. This was followed by two days of varied racing in fairly light oscillating winds. After 6 races the fleet were split into Gold, Silver and Bronze groups for the final day's racing. Jamie Harris, Josh Haynes and Rosie Williamson were 3 of the 17 British sailors to qualify for the Gold fleet.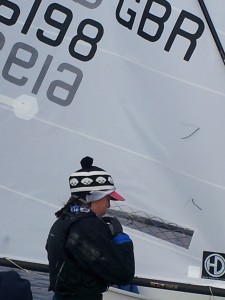 Easter Monday brought the strongest wind of the event which, with clearing skies, meant a great day's racing. Jamie Harris ended up 13th overall and third Brit. Joshua Haynes 20th overall and 4th Brit,  Rosie Williamson was 55th, 13th Brit and 1st British girl.
IOCA event page – blog reads from bottom to top
Many thanks to Charlotte Williamson for the report.