John Billington and Mike Senior dominated the 2012 GP14 Masters Championship winning all 3 races in breezy conditions held from New Quay Yacht Club, Wales. Mike usually seen at the helm of a GP teamed up with top Lark sailor John Billington for the event. Having never sailed together before, they showed fantastic boat speed which made up for the inevitable odd boat handling error!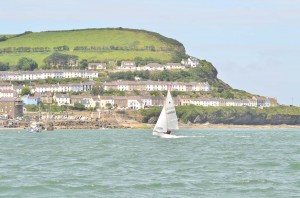 The score line doesn't however paint the full story. In the first race John and Mike capsized during their first tack and rounded the first mark near the back. With just short 30 minute back to back races planned, John and Mike had much to do. A top 5 was the aim, but some nifty downwind speed and upwind tactical decisions they were quickly back in the mix and managed to just grab the race win at the finish line. Races 2 and 3 were a little more straight forward as they led from start to finish winning both by a comfortable margin.
Attention now turns to the 2012 World Championships in Looe, Cornwall. If you are thinking of GP sails for this years Worlds please don't hesitate and get your order in soon so you don't miss out, order slots are filling up fast! Mike will also be attending the GP Bolton Open this Saturday, the Northern Championships at Derwent the week after and the Irish Nationals at Ballyholme  on the 21/22 July and will be happy to chat about his HD set-up to help you with your preparations for this years Worlds.