HD Sails have had a great end to the season taking first place at the Solo End Of Season Championships and GP14 End Of Season Championship.
The Solo EOS was held at Draycote Sc, it turned out to be quite a breezy day and winter certainly arrived! 51 boats turned out with a full star studded fleet. Our own Andy Davis (current National Champion) stamped his authority and proving that the HD rig and Winder boat setup is certainly the fastest this season, Andy won the first two races by comfortable margins, showing great pace downwind.
Mike & Lizzie Senior won the GP14 End Of Season Championships held at Royal Windermere Yacht Club. Mike & Lizzie showed great pace in the light airs on Saturday to top the leader board going in to Sunday. When Sunday arrived the wind didn't and by one o'clock the day was abandoned.
With this victory it also gave Mike the Grand Prix series for his second year in a row, crewed mainly by Chris White and a helping hand by Lizzie at the end. A huge congratulations to all!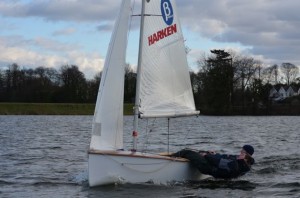 Once again HD sails showing great consistency throughout the GP14 circuit