2013 has started off nice and busy. Not only are we busy making lovely new sails but we've also been out sailing at the winter events and working on new designs.
Delivery dates for new sails are pushing further into 2013, so if you are looking at having new sails for the start of the season get your order in asap so to save on disappointment.
Development certainly hasn't stopped since the summer. One of our latest projects has been working with Osprey Inland Champions Chris Gould & Nick Broomhall and National Champions Gareth Caldwell & John Gibbons to develop our Osprey sails.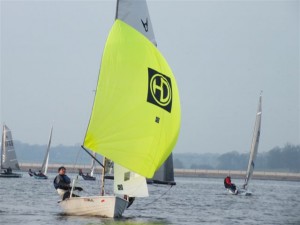 For 2013 we have designed  sails for the 420 and using the sails will be 2012 Optimist National Champion Martin Wrigley steering and crewed by Sam Smith, watch this space pictures will follow.
The Bloody Mary saw the Merlins descend as the biggest fleet with 31 boats, HD Sails took first, second and fourth out of the Merlin fleet. Unfortunately this year the course certainly favoured the  trapeze boats and the Foiling Moths which were certainly impressive to watch. Jon Gorringe & Tobytastic  was the first Merlin and managed to get to 12th overall, second Merlin was Andy Davis & Pippa Taylor who managed 23rd overall.
Next big winter event will be the Stevie Nicholson memorial race at Northampton Sailing club, Both Jim and Andy will be there sailing.
More news on our development will follow, we have more news on Merlins, Solo, OK and Phantom.