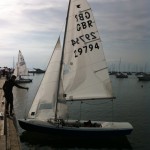 Andy Davis has been sailing Snipes for the last few years. In August 2012 Andy won his second Snipe Nationals. Working within in the fleet and sailing the boat has certainly helped to produce a fast set of Snipe sails. We have sails to fit both the Sidewinder and Selden masts.
We manufacture Snipe sails using various weights of cloth allowed by the class rules,
Mainsail £902.00 inc VAT
Jib £451.00 inc VAT
For light airs and Championship regattas we offer:
Mainsail in 2.5oz Dacron.
Jib in 2.5oz Dacron.
For medium airs:
Mainsail in 3.8oz Dacron.
Jib in 3.8oz Dacron for head and foot with 2.99oz Dacron in the middle.
For heavy airs:
Mainsail in 3.8oz Dacron
Jib in 4oz Dacron
Contact us here for more information