Our Silver Tiller, Salcombe week, Inland Championships and National Championship winning designs started life back in 2004 when Andy Davis began his Merlin campaign. Andy's Merlin Rocket sails designs have gone on to win all the major championships and various open meetings many times.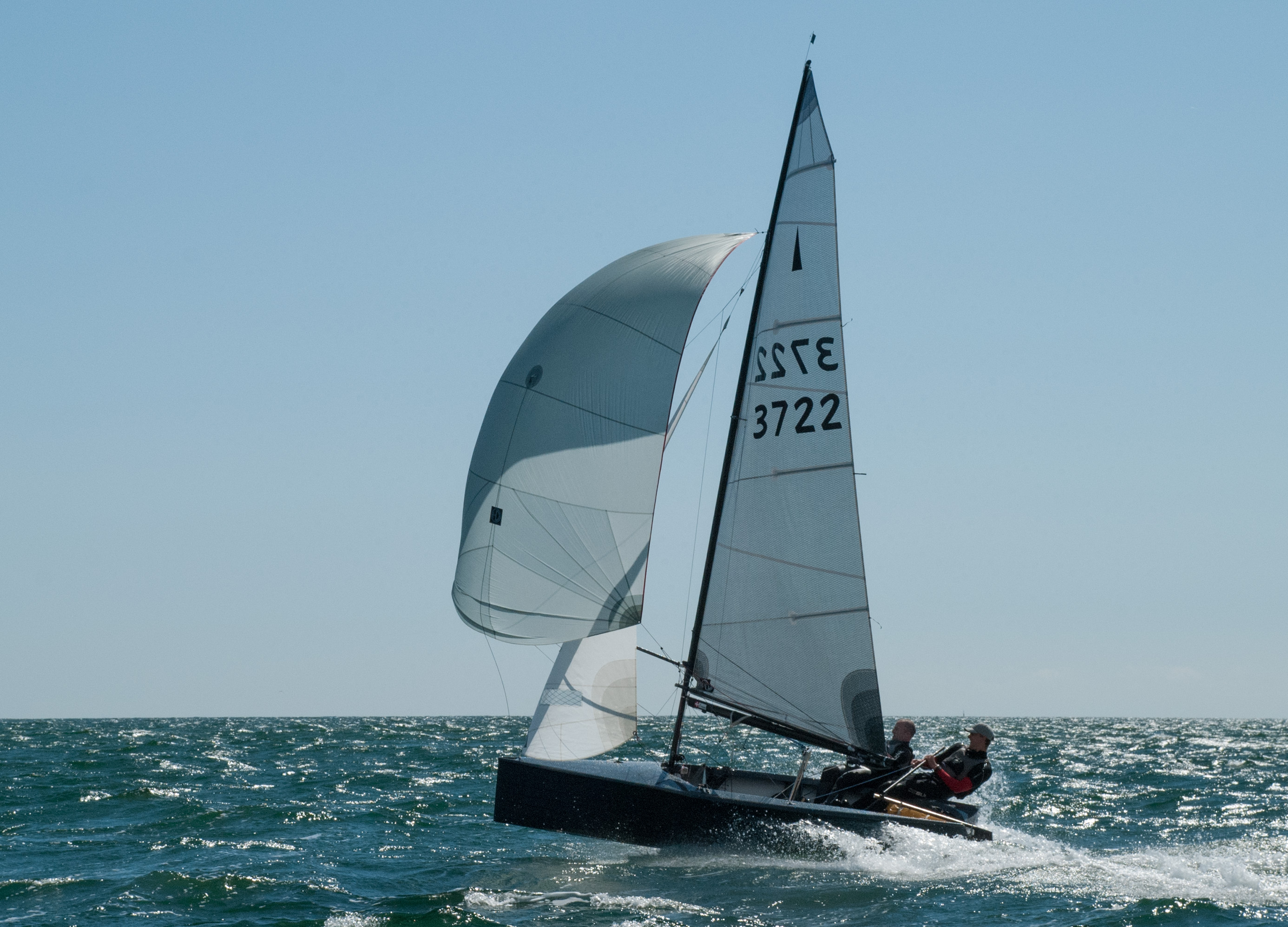 Mainsail
Our mainsails are built using Contender's ZZ04 and Contender's MAXX® One Design Racing Black Aramid Laminate. The battens are manufactured to HD's custom epoxy requirements. Each sail includes black numbers, a high load Allen cunningham block, loose foot, sail bag and tell tales. Please specify mast when ordering.
Maxx Mainsail
The Maxx Mainsail is built using Contender's MAXX® One Design Racing Black Aramid Laminate.
Contender's patented fibre layout ensures efficient support and distribution of the loads experienced by your sail. The effect of this fibre layout is to reduce the load on the Mylar film which helps the sail to retain its shape longer.
We have tested the mainsail thoroughly since spring 2016. In 2017 Andy started to use the mainsail on the Silver Tiller circuit and quickly found form. The HD Sails Maxx Mainsail has proved itself in 2017 by winning the Silver Tiller, Nationals, Inlands and second at Salcombe week.
Price:
£1150.00 inc VAT ZZ04 Black Laminate Standard cross cut mainsail with radial head
£1265.98 inc VAT MAXX® One Design Racing Black Aramid Laminate with Large window
Flattener £47.50
Camber Stripes £39.00
Measurement £9
Jib
The jib is cross cut made from Contender's RSQ Dacron sailcloth range. Included with each jib is a luff wire, tell tales and sail bag. When ordering please remember to mention your Jib area.
During the 2017 season Andy has been testing on the circuit a 2.8m2 Jib which is tacked in front of the spinnaker chute. Having the tack further forward on the boat has lengthened the overall sail plan which will help give stability to air flow over the sails. The luff length of the jib has had to be made shorter as the foot length has got bigger. With lowering the head this has opened the slot more, made air flow over and around the head cleaner. Andy has noticed that pointing ability has increased and the boat has become more stable when steering to windward.
Price:
2.8m2 Jib £387.10 inc VAT
3.12m2 Jib £402.19 inc VAT
Measurement £9
Spinnaker
Radial and cross cut made from 0.75oz dynakote and includes a chute patch. Each seam is glued and sewn and has a sail bag included.
Spinnakers can be painted to a design of your own, please email your design and we would be happy to assist.
Price:
£568.12 inc VAT
measurement £9
Contact us here to discuss your requirements for Merlin Rocket sails.
Merlin Rocket Class Association